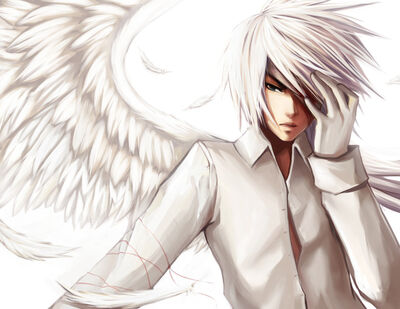 "I am Ethereall light, I am Life... The Angel of the lost void...
First NameEdit
UNKNOWN
Last NameEdit
UNKNOWN
IMVU NameEdit
NPC Played by DarkKeyome
NicknamesEdit
Agent Angel
UNKNOWN Possibly 35
Male
6'1
210
Blood typeEdit
UNKNOWN
Behaviour/PersonalityEdit
This information is unknown
Clan & RankEdit
Government Agent
Agency Unknown
What district do you live in?Edit
UNKNOWN
RelationshipEdit
UNKNOWN
OccupationEdit
Government All-Around Agent
Fighting StlyeEdit
UNKNOWN
Known powersEdit
Dimensional Expert.
The user can manipulate dimensions, beginning with the physical 0-D, 1-D, 2-D, 3-D, and 4-D, changing their own dimensions. Advanced uses include manipulation and linking to alternate dimensions and dimensional energy to achieve a variety of feats, such as teleportation, portal generation, and pocket dimension creation.
User may be able to become a portal, pulling subjects into themselves with tendrils of dimensional energy.
Tentacles of dimensional energy.
Create "windows" to observe what occurs in other dimensions.
Techniques
Edit
There are various types of dimensions and what composes them, such as time, space, reality, nothingness, and universes, so a Dimension Manipulator with little to no restriction can basically manipulate them all. A master can even create a pocket dimension out of nothingness, and completely create a new world.
Associations
Edit
Limitations
Edit
Some users could lose control if they over use power and must learn to regain control.
Some users are limited to how many dimensions they can control at a certain time
Weapon of ChoiceEdit
UNKNOWN
Allies/Enemies
Edit
Himself
BackgroundEdit
Statbook/Rap SheetEdit
~Fill this in when you pick your clan. Keep it realistic. We do not want OP rpcs~
| StatBook | Driving Skills | Renown | Speed | Combat | Stamina | Intellegence | Total |
| --- | --- | --- | --- | --- | --- | --- | --- |
| Ark |  ??? |  ??? |  ??? |  ??? |  ??? |  ??? |  ??? |
| - | | | | | | | |
Roleplay SelectionEdit
APPROVED BYEdit
Chairman Tasanagi (talk) 20:10, April 17, 2013 (UTC)
Ad blocker interference detected!
Wikia is a free-to-use site that makes money from advertising. We have a modified experience for viewers using ad blockers

Wikia is not accessible if you've made further modifications. Remove the custom ad blocker rule(s) and the page will load as expected.