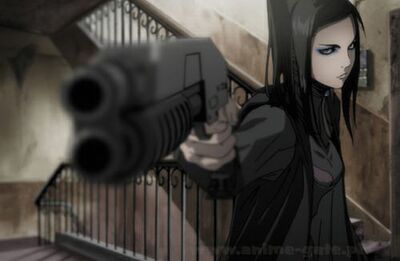 First NameEdit
Alexandria (aka. Alex)
Last NameEdit
Stone
IMVU NameEdit
NPC Played by DarkKeyome
NicknamesEdit
Baby Face
Ditz
11/04/2117
ARK 2: 18
ARK 3: 19
ARK 4: 20
Female
5'2"
108
Blood typeEdit
A
Behaviour/PersonalityEdit
Alex Stone takes pride in almost everything she does and works quite hard when she feels like it. She is somewhat ditzy and doesnt really understand sarcasm well when its thrown at her. People like to mess with her, and she just laughs it off. But she can also be very witty and clever when the time is right. She has always been reserved to everyone except those who she loves or owes her life to. She doesn't like to argue with people even though her views on things are strong, so she just keeps her mouth shut about her opinion. She often has a strong opinioned voice in her head that she struggles with. It has the ignorance of a rebellious young adult and tells her to do everything that involves danger but she usually goes against it. She is a big hearted person and sympathizes for many people and will show it in little but meaningful ways.
Clan & RankEdit
Clan: Kagemaru Clan
What district do you live in?Edit
District 2
RelationshipEdit
Single
OccupationEdit
Secretary of Keyome Tasanagi of the Kagemaru Clan
Fighting StyleEdit
No specific type, just the natural punches here and there if nessicary.
Weapon of ChoiceEdit
Any kind of gun. Especially the big boys.
Allies/Enemies
Edit
Allies: Anyone who doesnt do her or her clan/ loved ones dirty
Enemies: Anyone who does
BackgroundEdit
Statbook/Rap SheetEdit
| StatBook | Driving Skills | Renown | Speed | Combat | Stamina | Intellegence | Total |
| --- | --- | --- | --- | --- | --- | --- | --- |
| Ark2 | 3 | 2 | 2 | 1 | 3 | 5 | 15 |
| - | - | - | - | - | - | - | - |
Roleplay SelectionEdit
~Where you add the Role-play logs you have particapated in~
APPROVED BYEdit
Chairmen Tasanagi OdaKeyome (talk) 05:30, February 14, 2013 (UTC)
CHairman Yun 
Ad blocker interference detected!
Wikia is a free-to-use site that makes money from advertising. We have a modified experience for viewers using ad blockers

Wikia is not accessible if you've made further modifications. Remove the custom ad blocker rule(s) and the page will load as expected.