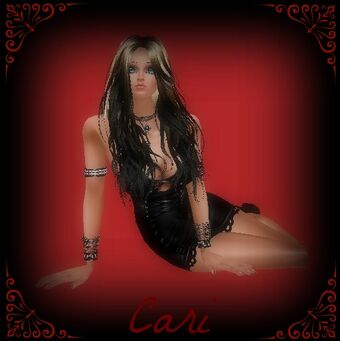 First NameEdit
Cari
Last NameEdit
Parker
IMVU NameEdit
CarissaLina
NicknamesEdit
Simply Cari.
22 - June 23rd
Female
5'7
135
Blood typeEdit
O-
Behaviour/PersonalityEdit
Having had a hard time of things at different times in her life, Cari has found herself to be muchly closed off to those that she doesn't know. She has extreme trust issues and rarely lets anyone close enough to know the real her. Because of this, she is often classified as a bitch.

Her normal attitude is a defense mechanism in order to keep others at bay. Growing up a rich girl, she does have it in her mind that she is better than others beneath her "status."  Because of this, she is highly egotistical. This fuels the fact that she knows her own beauty and wealth, and will not hesitate to use either to get what she wants.

Once one does manage to get close to Cari, it could be found out that she does in fact have a big heart. She is a family woman at heart, and longs for love and family. Very kind hearted, however, this is not to be mistaken with the fact that she is highly possessive and defensive of those she loves, and what she considers to be "hers", whether it be a loved one, or one of her clubs.

Different situations of course will spawn different reactions from Cari, depending on what it is that arises. She rarely lets her guard down, however, should she have been drinking a bit, one might get a glimpse of the girl underneath. She does have a bit of a wild streak, having grown up in the club scene. Enjoying a good time she often frequents her own clubs.
Clan & RankEdit
None as of yet.
What district do you live in?Edit
District 2
RelationshipEdit
Single
OccupationEdit
Owner of Foundation, a fight club, and The Haunt, a gothic nightclub.
Fighting StlyeEdit
Street
Weapon of ChoiceEdit
Butterfly Knife
Allies/Enemies
Edit
None as of yet.
BackgroundEdit
Statbook/Rap SheetEdit
| StatBook | Driving Skills | Renown | Speed | Combat | Stamina | Intellegence | Total |
| --- | --- | --- | --- | --- | --- | --- | --- |
| Ark3 | 2 | 3 | 2 | 2.5 | 3 | 3.5 | 16 |
| - | - | - | - | - | - | - | - |
Roleplay SelectionEdit
~Where you add the Role-play logs you have particapated in~
APPROVED BYEdit
Chairman Tasanagi (talk) 00:03, March 13, 2013 (UTC)
Nakayama Isabel (talk) 22:09, March 13, 2013 (UTC)
Ad blocker interference detected!
Wikia is a free-to-use site that makes money from advertising. We have a modified experience for viewers using ad blockers

Wikia is not accessible if you've made further modifications. Remove the custom ad blocker rule(s) and the page will load as expected.