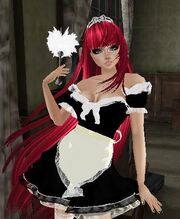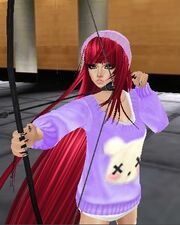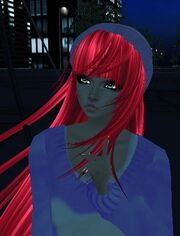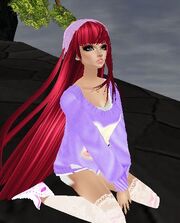 First NameEdit
Meridith
Last NameEdit
Yumiko
IMVU NameEdit
SpiderFuji
NicknamesEdit
N/A
11/17/2135
Female
5' 5"
123 lbs
Blood typeEdit
AB +
Behaviour/PersonalityEdit
Meridith comes off as unintelegent and easy to get past when she is anything but. Her fun loving, ditsy personality makes her easy to get along with. She is very observent and doesn't miss a beat. Growing up an Orphan she was offered many homes due to her friendly personality. She turned them all down to stay with her not so friendly sister, Isis. Isis and Meridith are very attached to eachother and are rarely seen without the other, despite being complete oposits. Growing up with nothing they learned the art of pitpocketing becoming con-artists as children. Her wardrobe consists of frilly, girly dresses and socks in pastels that show off her long dark pink hair and pale blue eyes.  Like her last name Yumiko (translates to Archery bow child) impiles her wepon of choice is a bow. Meridith is great with money and knows how to work a bargain. She is great with men and wins them over quite easily. She enjoys giggling and singing. She enjoys listening to jokes as well as telling them despite her lack of ability for it. Reading is a passion of hers and her favriote subjects are philosophy, and History. She loves KasugaiLitchi, JenYi Strawberry Dofu delight, and Pocky
Clan & RankEdit
N/A
What district do you live in?Edit
District 2
RelationshipEdit
Single
OccupationEdit
Maid at the Kemaru Suites
Fighting StyleEdit
Dim Mak
Weapon of ChoiceEdit
Bow and Arrow
Allies/Enemies
Edit
N/A
BackgroundEdit
Statbook/Rap SheetEdit
D.S: Driving Skill
M.A: Martial Arts
C.C: Chi Control
| StatBook | D.S | Renown | M.A | Speed | Combat | Stamina | Intell. | C.C | Total |
| --- | --- | --- | --- | --- | --- | --- | --- | --- | --- |
| Ark- | - | - | - | - | - | - | - | - | - |
Roleplay SelectionEdit
~Where you add the Role-play logs you have particapated in~
APPROVED BYEdit
Chairman Tasanagi (talk) 07:29, July 24, 2013 (UTC)
Ad blocker interference detected!
Wikia is a free-to-use site that makes money from advertising. We have a modified experience for viewers using ad blockers

Wikia is not accessible if you've made further modifications. Remove the custom ad blocker rule(s) and the page will load as expected.