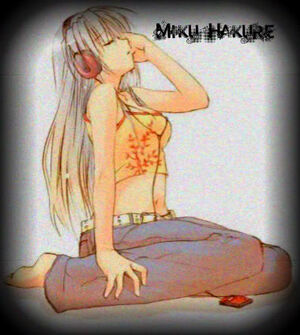 First NameEdit
Miku
Last NameEdit
Hakure
IMVU NameEdit
FloatingGame
NicknamesEdit
She doesn't have a nickname yet.
June 5th. She is 21 years old.
Female.
She is 5'4".
She weighs 110 pounds.
Blood typeEdit
O+
Behaviour/PersonalityEdit
Miku is reserved, usually quiet unless she needs to speak. She is protective of anyone she befriends. She rarely ever loses her temper, but can be quite fierce when she does. She doesn't fight unless provoked, and knows Tae Kwon Do if the need ever arises. When she drinks, she becomes very giggly and clingy to those around her. She is always in a better mood around Fumiko, as the two have been best friends for a long time. She hangs around her and looks up to her. When the two of them are separate, her quiet side takes over and she usually spaces out.
Clan & RankEdit
Fumiko's Assistant and best friend. 
What district do you live in?Edit
District 2, living with Fumiko Obinata.
RelationshipEdit
Single.
Best friends with Fumiko Obinata.
OccupationEdit
Private escort for high-paying clients.
Fighting StyleEdit
Taekwondo.
Weapon of ChoiceEdit
Weapons of opportunity, fists.
Allies/Enemies
Edit
Clients are allies. Cops are enemies.
BackgroundEdit
Statbook/Rap SheetEdit
Please fill out your Rap Sheet when you pick your Clan, or told by one of the Admins for your Total. Keep it realistic PLEASE. We do not want OP RPCer's. Meaning no 4's or 5's right off the bat. To obtain those 4 or 5's you have to put in the time and work, and train. Don't know what the numbers mean? Please refure to StatBook Information. And if your tottally stumped just ask for an Admin to help you out, and they'll fill it out for you.
Terms~
D.S: Driving Skill
M.A: Martial Arts
C.C: Chi Control
| StatBook | D.S | Renown | M.A | Speed | Combat | Stamina | Intell. | C.C | Total |
| --- | --- | --- | --- | --- | --- | --- | --- | --- | --- |
| Ark- | - | - | - | - | - | - | - | - | - |
Roleplay SelectionEdit
~Where you add the Role-play logs you have particapated in~
APPROVED BYEdit
~Two approvals will be needed IE: Chairmen Tasanagi, Chairwomen Nakayama, or Detective Roji (Keyo/Izzy/SezomaruDensuke)~
Ad blocker interference detected!
Wikia is a free-to-use site that makes money from advertising. We have a modified experience for viewers using ad blockers

Wikia is not accessible if you've made further modifications. Remove the custom ad blocker rule(s) and the page will load as expected.