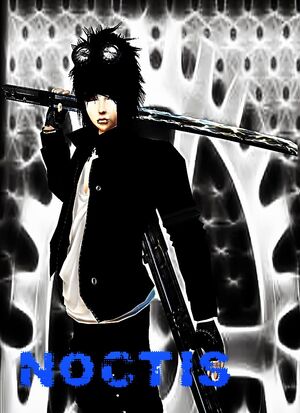 First NameEdit
Noctis
Last NameEdit
Tenshi
IMVU NameEdit
XAkioNaraX
NicknamesEdit
Noct
17
Male
5`10
185 pounds
Blood typeEdit
AB
Behaviour/PersonalityEdit
Noctis is very physcotic, he dosn't like to be touched, he's very antisocial and emotional, but he's spontanyous and loves to get into deep conversations with himself or anyone else who gets him...sadly not much do. 
Clan & RankEdit
(What Clan is your character in, and what rank do they hold within the clan? Chairmen? Aniki? Head of house? Guard? Personal Body Guard to..etc, etc etc..)
What district do you live in?Edit
(( It's best to see your clan page, and see where most of your clan lives, if your a civillian or something in the lines of that its whereever. And if your a KPD then most likely District 3.))
RelationshipEdit
( For incoming people, this will be set to single. But if an agreement is worked out. This can be arranged. )
OccupationEdit
Surgeon, Mechanic and automail specialist
Fighting StyleEdit
Martial arts Simple high frequency blade
Weapon of ChoiceEdit
Simple high frequency blade(Discription: A high-frequency blade is a sword reinforced by a powerful alternating current and resonates at extremely high frequencies. This oscillation weakens the molecular bonds of anything it cuts, thereby increasing its cutting ability. Striking, cutting, and thrusting attacks are performed with the blade, with the sharpened edge and point used for lethal attacks, and the blunt edge used as a clubbing weapon. Proficient users were also able to wield the blade with such accuracy and speed that they were able to deflect bullets. They can also be superheated from friction to be hot enough to sear anything that it comes into contact with.)
Allies/Enemies
Edit
( As we encourage diversity with our characters. We encourage you to possibly create bullies, enemies you may have within the streets, or even create a rivalry between you and another Rper. )
BackgroundEdit
Statbook/Rap SheetEdit
Please fill out your Rap Sheet when you pick your Clan, or told by one of the Admins for your Total. Keep it realistic PLEASE. We do not want OP RPCer's. Meaning no 4's or 5's right off the bat. To obtain those 4 or 5's you have to put in the time and work, and train. Don't know what the numbers mean? Please refure to StatBook Information. And if your tottally stumped just ask for an Admin to help you out, and they'll fill it out for you.
Terms~
D.S: Driving Skill
M.A: Martial Arts
C.C: Chi Control
| StatBook | D.S | Renown | M.A | Speed | Combat | Stamina | Intell. | C.C | Total |
| --- | --- | --- | --- | --- | --- | --- | --- | --- | --- |
| Ark- | - | - | - | - | - | - | - | - | - |
Roleplay SelectionEdit
~Where you add the Role-play logs you have particapated in~
APPROVED BYEdit
Chairman Tasanagi (talk) 02:43, July 3, 2013 (UTC)
Ad blocker interference detected!
Wikia is a free-to-use site that makes money from advertising. We have a modified experience for viewers using ad blockers

Wikia is not accessible if you've made further modifications. Remove the custom ad blocker rule(s) and the page will load as expected.