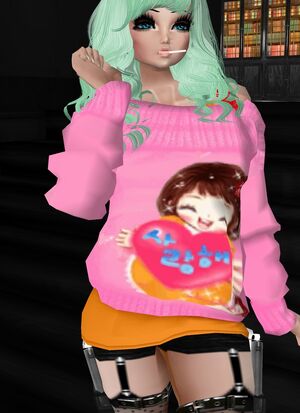 First Name
Nami
Last Name
Kibou
IMVU Name
NamikazeSoudai
Nicknames
Lolipop ((Retired nickname))
Age
3/3/2116 ((Shes 20))
Gender
Female
Height
5 feet 8 inches ((taller depending on type of footwear))
Weight
111 pounds ((give or take eating that day))
Blood type
B type
Behaviour/Personality
Before Memory Lost

Nami has three changing behaviour and personality depending on three things. One: if she is not under the influeance of a substance. Two: If she IS under the influeance. Three: If shes hyper. She has two real addictions in life, one being the lolipops she is nearly aways with, the other being ecstasy, so she is almost always hyper or horny or a combination of both. While under the influeance of her drug she can act quite childish, submissive, and touchy. She acts like a hole that must be filled and goes out to get that, with either attention from someone in a non sexual way, to aknowledge that she is cute, fun, etc or in a sexual way. During her high she doesn't care who or sometimes even what it is shes getting the sexual attention from, man, woman, toy, pole, it becomes what the body wants, or even needs. When shes hyper but not on her drug she tends to doing everything but seeking her drug, it is the rival high she uses to counter the need for the real drug, she does fear the crash from the sugar high though but sometimes that could take days depending on how many lolipops she has. The sugar crash doesn't come either if say she takes her drugs before it, the crash is replaced by the high. When she isn't distracted by her addictions, she tries her best to do her job left off before she was under the influeance of the drugs, often though it is a pointless task.
Hyper, drugged, or not she is always nearly one thing it seemed, happy. Even though she is 19 she takes her role as a school girl undercover to heart and that doesnt even break if she is under the influeance. Perhaps, due to the extensive training she had done that had her miss high school, this now is her chance to be that age, act like a teen. The only time she has known to be unhappy is when she either doesn't have her lolipops and drugs to have at one single time. If she is ever without lolipops, she will resort instantly to taking the ecstasy, it's easy too since that is in a lolipop form. Shes actually pretty intelligent, knowing how to hack computers, atms, jack cars, and assemble a APR sniper rifle or other guns. She was top in her class at the academy where her and other young child or teen looking adults were trained to be undercover in the organizations.
After Memory lost
A lot of who she was in the past before a incident which caused her to lose her memory was lost. Now in a effort to shorten the amount of words one clear emotion comes up ontop, depressed. Although there are times when she isn't, Nami doesn't enjoy the lack of memories, everything is lost and fake..Does she really like this or what is her true favorite color. Who was she before and why was she in a situation that got her shot. It all weighs heavily on her..
Nami is very polite and respectful. She doesn't have the sugar or drugs high that would make her unattentive and the urge to speak her mind whenever she desired. She is quiet as well to most strangers, Isabel and the twins are some of the few she speaks to but otherwise she keeps her voice locked inside and observes.
Clan & Rank
N/A
Relationship
N/A
Occupation
Student
Government Agent ((Unknown to herself))
Fighting Stlye
Baguazhang ((Palm fighting style))
Weapon of Choice
Throwing Knives
Allies/Enemies
N/A?
Background
Statbook/Rap Sheet
Courier
| StatBook | Driving Skills | Renown | Speed | Combat | Stamina | Intellegence | Total |
| --- | --- | --- | --- | --- | --- | --- | --- |
| Ark- | 4 | 2 | 3 | 3 | 3 | 4 | 19 |
| - | - | - | - | - | - | - | - |
Roleplay Selection
~Where you add the Role-play logs you have particapated in~
APPROVED BY
OdaKeyome (talk) 04:07, January 4, 2013 (UTC)
NakayamaIsabel 04:46, January 4, 2013 (UTC)