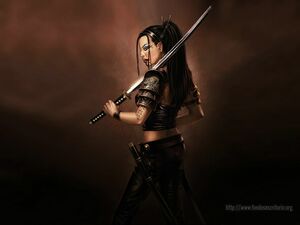 First NameEdit
Rei
Last NameEdit
Starkk
IMVU NameEdit
KoyoteStarkk
NicknamesEdit
Hanako, Star, Ray of the Dawn
06/23/77
Female
5'10
127 lbs.
Blood typeEdit
Being a Hemomancer, she does not have normal blood, Her blood is made up of specail blood cells, that absorb her spiritual energy and turn into whatever she wills it, From being to iron skin, to protect her from cuts, or spikes on the ground to pierce an unsuspecting foe thinking they got the better of her. Her blood type is called X because its a One in a Million Anamoly.
Behaviour/PersonalityEdit
Her personality depends on her mood. She sometimes is a fun loving free spirited soul, who loves to hit on women, She is a massive lesbian. Other times she is sad and depressed, and introverted, especailly when whe fails to protect one of her friends. She is also confident most of the time, She believes it was her job to protect the weak, and the women of this world. She can be immature as well at times, she loves perving at girls on her freetime, which is said to be unhealthy for a woman her age. Though when its time to be serious, shes a very serious person, she takes her job at protecting the innocent serious.
Clan & RankEdit
Wakahisa Clan - Personal Bodyguard
What district do you live in?Edit
Geisha District in District 2
RelationshipEdit
Single for life
OccupationEdit
Personal Bodyguard, and Jack-of-all trades Rogue
Fighting StlyeEdit
Ninjutsu, Bushido, Taekwando, Rei chan'neru (the ability to summon the energy inside yourself into prayers. allowing you to do more than the average Martial Artist. Only Metahumans, or humans with strong spirits can use this technique) and Toxin Mastery
Weapon of ChoiceEdit
Swords, Daggers, Needles, Kunani, Shuriken, Chains, Her blood. Poison.
Allies/Enemies
Edit
Allies : Isabel, Kagemaru Clan
Enemies : None
BackgroundEdit
Statbook/Rap SheetEdit
~Fill this in when you pick your clan. Keep it realistic. We do not want OP rpcs~
| StatBook | Driving Skills | Renown | Speed | Combat | Stamina | Intellegence | Total |
| --- | --- | --- | --- | --- | --- | --- | --- |
| Ark4 | 2 | 2 | 4.5 | 5 | 3 | 2.5 | 16 |
| - | - | - | - | - | - | - | - |
Roleplay SelectionEdit
~Where you add the Role-play logs you have particapated in~
APPROVED BYEdit
Chairman Tasanagi (talk) 06:00, April 18, 2013 (UTC)
Windchimer94 (talk) 06:01, April 18, 2013 (UTC)
Ad blocker interference detected!
Wikia is a free-to-use site that makes money from advertising. We have a modified experience for viewers using ad blockers

Wikia is not accessible if you've made further modifications. Remove the custom ad blocker rule(s) and the page will load as expected.