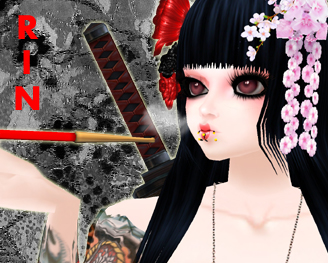 First Name
Edit
Rin
Last Name
Edit
Asagami
IMVU Name
Edit
AliceHimeChan
Nicknames
Edit
Obaasan, RinRin...
8.11.2113
22
Female
160cm/5'2
120-125 lbs
Blood type
Edit
AB
Favourite SayingsEdit
"You can't afford this...."
"Aaaaw my poor baby!"
"Shut up and hand over the sake... I have a hell of an hangover."
Behaviour/Personality
Edit
The Rin now is like a mental case, the only time she would look like a doll is if she's A: Sleeping or B: Completely still which is never. She's probably the only one that can kick Aijin's ass verbally and physically without getting a scratch on her. Rin has taken up the Obaasan role of the clan and mothers everyone If they want it or not and her wise words and dominant nature makes it easy for her clan to trust her instincts and come to her for advice. Most of the time she's drunk and or going through a deep and horrid hangover, the miniscule 10% of the time she is not hung-over and or drunk she is lovely to be around, calm and gentle, many guys fall for her because they don't see what she's like 90% of the time.. She has a foul mouth and doesn't hold back because she is a lady. Her past is not part of her anymore, apart from the art which she takes solace in. Her Kiseru and her bottle of Sake are her best friend, always walking around with a bottle of rare vintage sake. It's to her like spinach is to Popeye. Most people with sense should fear her because once she goes off, she's not going to stop until the surrounding area is demolished.
Clan & Rank
Edit
Aniki of The Zugaikotsu Group. 頭蓋骨
What district do you live in?
Edit
District 2.
Relationship
Edit
Single
Occupation
Edit
Maid and PA in the Yakuza Host Club
Fighting Stlye
Edit
Ninjutsu
Weapon of Choice
Edit
Katana: Overall length 70cm, blade is high-carbon steel with a hardwood pole decorated with red leather laquar
Kiseru: A long geisha smoking pipe, which burning ashes she may or may not use on your eyes.
Allies/Enemies
Edit
Allies: Members of the Yakuza Host Club and her clan.
Enemies: None so far
Background
Edit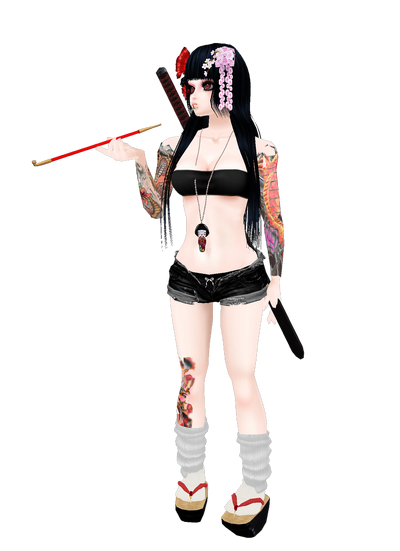 Statbook/Rap Sheet
Edit
| StatBook | Driving Skills | Renown | Speed | Combat | Stamina | Intellegence | Total |
| --- | --- | --- | --- | --- | --- | --- | --- |
| Ark- | 1 | 2 | 5 | 5 | 4 | 5 | 22 |
| - | - | - | - | - | - | - | - |
Roleplay Selection
Edit
N/A
APPROVED BY
Edit
Chairmen Tasanagi OdaKeyome (talk) 00:10, January 20, 2013 (UTC)