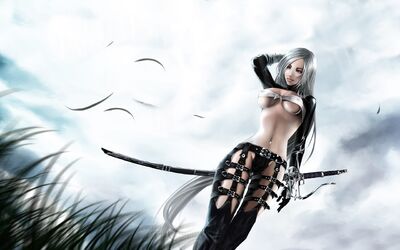 First NameEdit
Ryder
Last NameEdit
IMVU NameEdit
NPC palyed by MelianMay
NicknamesEdit
Sparks, Trouble, and Crazy Bitch
22
Female
5feet12inches
179
Blood typeEdit
A-
Behaviour/PersonalityEdit
Ryder is a huge trouble maker, whether it's blowing cars up, stealing from a jewlery store or being a home wrecker. The girl just loves trouble and can Never sit still. She is easily angered and hates when people tell her she is wrong when she is clearly always right. She will come off as a bitch and rarely is nice to anyone unless she wants something from them or is in a rare 'good' mood. She will never get into a relationship either, she hates being tied down to anything for too long.
Clan & RankEdit
Teiden and Master of Electrokinesis.
What district do you live in?Edit
District 2
RelationshipEdit
She hates them, she prefers to be free.
OccupationEdit
Exotic Dancer 
Fighting StlyeEdit
Ninjitsu and Her Element
Weapon of ChoiceEdit
Her four foot long katana. 
Allies/Enemies
Edit
Ryder really hates Akita with a burning passion and goes out of her way to torture her. 
BackgroundEdit
Statbook/Rap SheetEdit
~Fill this in when you pick your clan. Keep it realistic. We do not want OP rpcs~
| StatBook | Driving Skills | Renown | Speed | Combat | Stamina | Intellegence | Total |
| --- | --- | --- | --- | --- | --- | --- | --- |
| Ark-4 | 0 | 0 | 4 | 3 | 4 | 3 | 14 |
| - | - | - | - | - | - | - | - |
Roleplay SelectionEdit
~Where you add the Role-play logs you have particapated in~
APPROVED BYEdit
~Two approvals will be needed IE: Chairmen Tasanagi, Chairwomen Nakayama, Chairmen Yun, or Detective Roji (Keyo/Izzy/Pallas/Densuke)~
Ad blocker interference detected!
Wikia is a free-to-use site that makes money from advertising. We have a modified experience for viewers using ad blockers

Wikia is not accessible if you've made further modifications. Remove the custom ad blocker rule(s) and the page will load as expected.