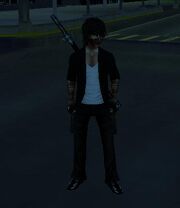 First NameEdit
His first name is Ryuu meaning "dragon" in japanese.
Last NameEdit
Hashirama
Entichi
When tired or extremely bored Ryuu can become foolish and comical. This has earned him the nickname Baka meaning "idiot".
20 (4/12)
Male
6" 3'
230 lbs
Blood typeEdit
AB pos
Behaviour/PersonalityEdit
( Bare min of 100 words, would like love to see 200+ on how your character acts. The more detail provided. The better the RP will be! )
Clan & RankEdit
Utsukushii Clan. Chairwoman's Protector.
What district do you live in?Edit
District 1
RelationshipEdit
Single.
OccupationEdit
Protector of  Sekushi.
Fighting StyleEdit
American-style Boxing, Muey Thai, and Taikuando.
Weapon of ChoiceEdit
Light sword and dual pistols. He can go hand to hand if needed.
Allies/Enemies
Edit
Known Allies: Sekushi Yuri and Tsuyo (Sekushi's Canine companion.)
BackgroundEdit
Statbook/Rap SheetEdit
Please fill out your Rap Sheet when you pick your Clan, or told by one of the Admins for your Total. Keep it realistic PLEASE. We do not want OP RPCer's. Meaning no 4's or 5's right off the bat. To obtain those 4 or 5's you have to put in the time and work, and train. Don't know what the numbers mean? Please refure to StatBook Information. And if your tottally stumped just ask for an Admin to help you out, and they'll fill it out for you.
Terms~
D.S: Driving Skill
M.A: Martial Arts
C.C: Chi Control
| StatBook | D.S | Renown | M.A | Speed | Combat | Stamina | Intell. | C.C | Total |
| --- | --- | --- | --- | --- | --- | --- | --- | --- | --- |
| Ark- | - | - | - | - | - | - | - | - | - |
Roleplay SelectionEdit
~Where you add the Role-play logs you have particapated in~
APPROVED BYEdit
~Two approvals will be needed IE: Chairmen Tasanagi, Chairwomen Nakayama, or Detective Roji (Keyo/Izzy/SezomaruDensuke)~
Ad blocker interference detected!
Wikia is a free-to-use site that makes money from advertising. We have a modified experience for viewers using ad blockers

Wikia is not accessible if you've made further modifications. Remove the custom ad blocker rule(s) and the page will load as expected.