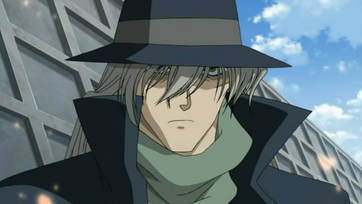 First NameEdit
Shinichi
Last NameEdit
Kudo
IMVU NameEdit
Entichi
NicknamesEdit
Burbon
17
Male 
5" 9'
156lbs
Blood typeEdit
AB-
Behaviour/PersonalityEdit
Shinichi is mostly a quiet type. Shinichi is a merciless and efficient assassin. He has no compunctions about killing or threatening fellow teammates. Fitting his icy personality, Shinichi's displayed range of emotions so far is relatively limited. Wearing a threatening smirk, he enjoys hunting traitors, watching the plans he has concocted succeed, and cornering his targets. Although he seems to take satisfaction with taking out someone personally, Shinichi is also satisfied with orchestrating a target's death even if he does not pull the trigger himself. He is not easily frustrated and takes setbacks in good stride because it only makes him think that he can make his kill even better. He is patient and cautious, preferring to wait until success is most likely. He does not like potential loose ends, preferring to get rid of anything doubtful. Shinichi does not trust anyone and does not fully believe anything he doesn't witness himself.
AppearanceEdit
(Being redone.))
Clan & RankEdit
No clan at the moment
What district do you live in?Edit
District 2 
RelationshipEdit
Single
OccupationEdit
Hired Killer
AbilitiesEdit
Extremely skilled in Parkour. (Parkour (abbreviated PK) is a holistic training discipline using movement that developed out of military obstacle course training. Practitioners aim to move quickly and efficiently past obstacles in their environment, using only their bodies and their surroundings to propel themselves; furthermore, they try to maintain as much momentum as is possible in a safe manner. Parkour can include running, climbing, swinging, vaulting, jumping, rolling, quadrupedal movement, and the like, depending on what movement is deemed most suitable for the given situation.)
Fighting StyleEdit
Weapon of ChoiceEdit
Long Range: M24 SWS, 7.62x51mm NATO, .300 Winchester Magnum
Short Range Firearm: Beretta92FS 9x19mm.
Melee: Katana/Knife
Allies/Enemies
Edit
Allies-Vermont
BackgroundEdit
Statbook/Rap SheetEdit
Please fill out your Rap Sheet when you pick your Clan, or told by one of the Admins for your Total. Keep it realistic PLEASE. We do not want OP RPCer's. Meaning no 4's or 5's right off the bat. To obtain those 4 or 5's you have to put in the time and work, and train. Don't know what the numbers mean? Please refure to StatBook Information. And if your tottally stumped just ask for an Admin to help you out, and they'll fill it out for you.
Terms~
D.S: Driving Skill
M.A: Martial Arts
C.C: Chi Control
| StatBook | D.S | Renown | M.A | Speed | Combat | Stamina | Intell. | C.C | Total |
| --- | --- | --- | --- | --- | --- | --- | --- | --- | --- |
| Ark- | 2 | 0 | 3 | 3 | 3 | 3 | 4 | 0 | 18 |
Roleplay SelectionEdit
~Where you add the Role-play logs you have particapated in~
Ad blocker interference detected!
Wikia is a free-to-use site that makes money from advertising. We have a modified experience for viewers using ad blockers

Wikia is not accessible if you've made further modifications. Remove the custom ad blocker rule(s) and the page will load as expected.